About the Department
Vision:
• IEEE NECG SB (STB99972) creates a new professional network for communication and develops innovative technologies in all related technical disciplines in addition to investigate potential opportunities
Mission:
• To educate students about the most recent technological developments and motivate them to participate at events to propose innovative research ideas.
• Students are encouraged to Co-curricular and extracurricular activities like Technical Seminars, Club activities, Conferences, Quiz Competitions, Workshops, Guest/Expert Lectures, Tech Talk, Industrial Training, webinar, Certificate Courses, Leadership Events, Hackathons, Student symposiums and Social Welfare Activities
• Encourage them to arrange activities and to instill a spirit of teamwork and commitment.
• Conducting various industrial/Field trips in order to provide industrial experience.
• Conducting job fairs and seeking advice from industry experts in order to increase employment options.
Inauguration: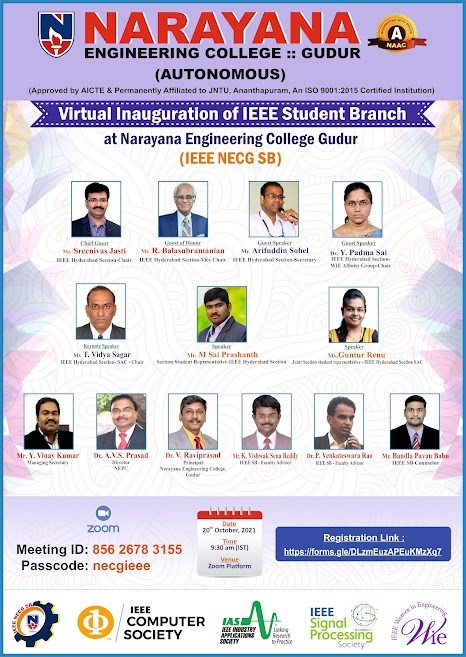 IEEE is the world's largest technical professional organization dedicated to advancing technology for the benefit of humanity. IEEE and its members inspire a global community through its highly cited publications, conferences, technology standards, and professional and educational activities. Narayana Engineering College, gudur took a step forward by forming an IEEE student branch and inaugurated on 20th October 2021. The inauguration was organized virtually by the management of Narayana Engineering College,gudur, welcoming Mr.Sreenivas Jasti (IEEE Hyderabad Section-Chair), as the chief-guest , Mr.R.Balasubramanian (IEEE Hyderabad Section-Chair), as the guest of honor, Mr.ArifuddinSohel, Dr.Y.Padma Sai, Mr.T.Vidya Sagar, Mr.M.Sai Prashanth, Ms.GunturRenu as the guest speakers of the event.